THE GRAPHICAL PRESENTATION
OF YOUR DATA
Map Observer provides visualisations of all content. It links directly to your database's alphanumeric information and is connected to external data sources. It can therefore be used for a variety of tasks such as identifying spatial interrelations and displaying overviews. This makes Map Observer a powerful application that is quick and intuitive to use.
More features
in Map Observer:
USE AND SHARE YOUR DATA
WITH COLLEAGUES & PARTNERS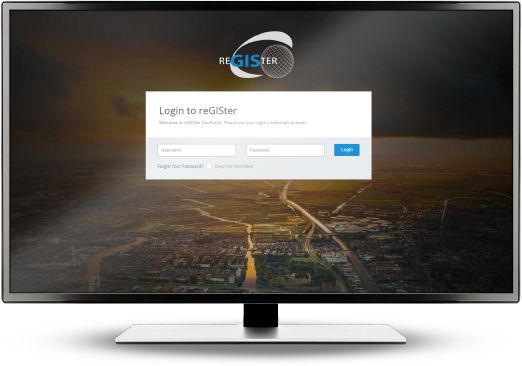 The portal contains all core functions and is the basis for other applications. Use tools such as the User Management, Site Management, Document Management, Notifications or Global Data to keep your business up to date.
reGISter LITE offers a compact version of our product as an introductory system to digital map management.
reGISter LITE focuses on Map Observer visualisation of the geodata and maps entered via the portal. Detailed alphanumeric data and applications, such as Land Management, are not included, but can be added as required. Depending on the package purchased, you can add the number of users and locations you require. Worldwide availability, fast access, extremely high security standards, and encrypted data transfer make reGISter LITE ideal for sharing information between companies and external partners and public agencies. A monthly subscription gives you all the benefits of the reGISter Cloud server as well as the latest updates and new functions.
Overview and management of your sites. In the application of ​​Land Management, you can enter and structure graphical and alphanumerical information on parcels and arrange the associated basic data.
Land Management enables you to input graphical and alphanumeric information about the parcels of land, structure the data, and organise associated core information. Data such as land registry reference, municipality, parcel number, land owner, current occupier and area is input using the relevant fields and easily accessed and filtered using navigation functions. Geometrics for each land record are displayed and can be combined into a detailed map with other topics and map layers via Map Observer. Instant switching between the data and map is possible.
Any document and file can also be attached. An overview table means you always have control over the latest data and can easily create outputs and reports. Whether owned land, leased or third-party land, Land Management stores all master data and continuously tracks your current land information.
More features
in Land Management:
Country-specific for Germany, USA, Belgium and Poland. Take advantage of advanced features such as Land Registry & Cadastre, History, Change Processes and Contracts.
FOR EVERY JOB THE RIGHT TOOL
A range of other applications and add-ons, such as Structure / Assets Management, Competitor Management, Sensor Monitoring, Drillhole Management, Interfaces